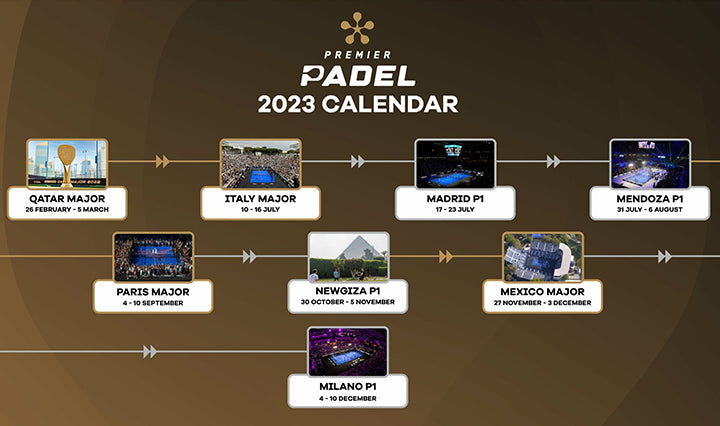 The Premier Padel Circuit, organized by the International Padel Federation (FIP) and supported by the Professional Padel Association (PPA), was launched for the first time in the year 2022 and has been extremely successful. In 2023, one of the most anticipated sporting events by padel fans worldwide, will have at least eight competitions, two of which will take place in Italy, offering padel fans the opportunity to see the best players in action.
The first stage started once again from Doha with the Ooredoo Qatar Major Premier Padel (February 26-March 6), then it will be the Foro Italico Major in Rome, from July 10 to 16 ; Madrid, Spain (P1, July 17-23); Mendoza, Argentina (P1, July 31-August 6); Paris Major, which like last year will be played at Roland-Garros from 4 to 10 September; NewGiza, Egypt  (P1, October 30 - November 5) Monterrey Major, Mexico November 27 - December 3. The last stage (P1) instead will return again to Italy, in Milan, which will take place from December 4th to 10th , where padel fans will be able to attend a high-level sporting event and see the best players in the world compete for the victory.
Luigi Carraro , president of the International Padel Federation commented: "2023 will be an extraordinary year for padel at a professional and amateur level, supported by another spectacular series of Premier Padel events around the world. I am delighted to see Premier Padel's continued focus on player welfare as the tour builds on last year's great and surprising successes. At FIP, together with Premier Padel, the PPA and our fans, we are thrilled to continue this incredible adventure together ".
More information on the event and program can be found on the official website of Premier Padel 2023
Apr 21, 2023

Category:

News
Comments: 0