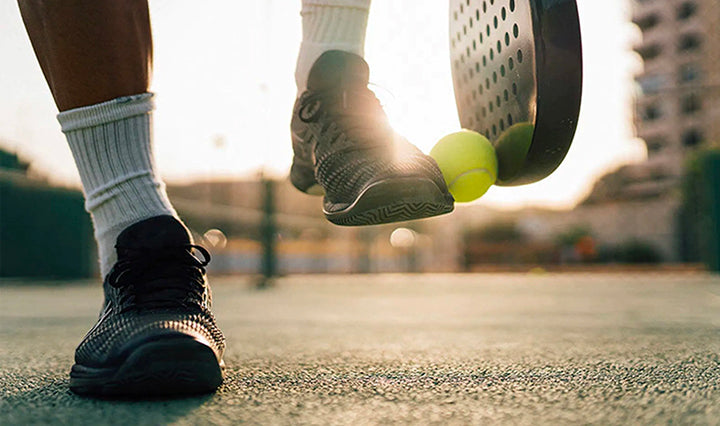 PADEL SHOES 2022 AND HOW TO CHOOSE THEM
Padel shoes are essential to obtain optimal performance on the pitch.
Many beginner players who approach padel use tennis or running shoes, but it is not the right choice as the wrong shoe could cause injuries and injuries and take you away from the field for a long time.
The main difference lies in the sole, designed in consideration of the pitch and the movements of the padel player different from those of a tennis player due to rapid movements, vertical and oblique movements, sudden changes of direction, etc.
So to ensure a good grip on the synthetic turf, you need a specific sole, specially recommended for padel. To date, there are three main types of soles on the market: Omni, Clay (herringbone) and mixed.
"Omni" sole: it is very versatile and adapts to both padel and tennis played on hard surfaces (cement or synthetic); its dot design facilitates grip on the pitch, facilitating quick and short movements, but makes sliding more difficult.
"Clay" sole: the sole with the herringbone pattern (like that of clay tennis shoes) is certainly the most used in padel. Shoes with a Clay sole guarantee a good grip on the ground and at the same time allow you to slide to reach distant balls. This type of sole has a high resistance to abrasion, therefore it lasts longer and is the most suitable on fields with a lot of sand.
Mixed sole: the design combines Omni to ensure good grip and Clay to ensure glide on the carpet. It is the sole suitable for both tennis and padel.
The best models of the 2022 padel shoes chosen by MainPadel.com
K-Swiss Express Light 2 HB : a best-selling model from the K-Swiss house with a herringbone Clay sole with deep grooves that promotes exceptional traction and stability.
Joma T.Slam World Padel Tour : a shoe designed specifically for padel. It is light, comfortable, characterized by excellent stability and resistance and is available in many different colors.
Head Sprint Padel : a range of light padel shoes that allow you to have maximum speed and safety of movement on the court.
On MainPadel.com the best shoes for playing padel classified for Men , Women and Children are available, ready for delivery and with free shipping starting from €75.
Jun 13, 2022

Category:

News
Comments: 0