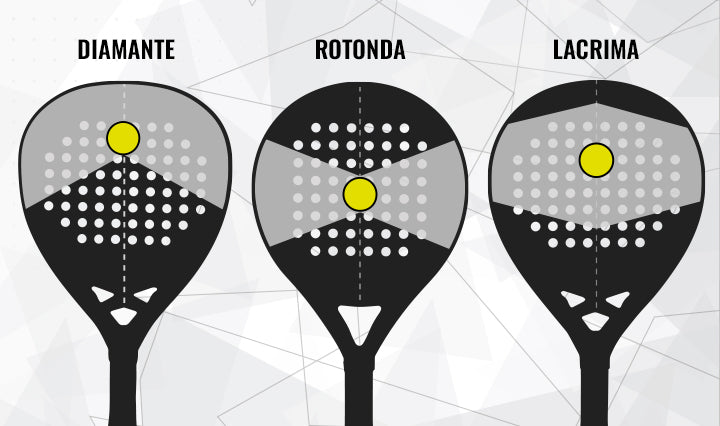 Are you thinking about buying a new 2022 collection padel racket but don't know how to choose the right one for you? There are three main factors to consider: your level of play, price and racket shape.
How much does a padel racket cost?
Have you already decided on the budget for your new padel racket? Prices vary greatly depending on the level and characteristics of the racket. The rackets for beginners i you can find a good tool between 30 euros and 70 euros, intermediate players can opt for models between 80 euros and 150 euros, while high-end rackets for advanced level players start at 200 euros and up.
Two tips on how to save money: look at the padel rackets on offer or from the previous year, often in online stores you can find an excellent padel shovel at half the price; you can also focus on a lesser-known brand that produces high quality rackets at affordable prices .
Racket shape
Another element to consider when choosing a padel racket is its shape: an extremely important factor that defines the balance and sweet spot of the racket. There are currently 3 different main shapes of padel rackets on the market:
Diamond shape
Diamond shaped rackets have a high balance , this means the weight is directed higher on the head. Diamond-shaped padel blades are chosen by players looking for greater hitting power, especially in offensive play. Racquets of this type are generally difficult to handle due to the smaller sweet spot compared to other formats, and therefore are mainly suitable for advanced and professional level players.
Best selling diamond shaped rackets of 2022 : Head Delta Pro , Head Delta Motion , Head Delta Elite , Adidas Adipower 3.1 and Adidas Adipower Lite 3.1 .
Round shape
Round shaped rackets are generally aimed at players looking for control and precision. The round blades have a very wide sweet spot and a low balance towards the handle which allows for maximum maneuverability and ease of play. For this reason it is the type of racket most chosen by beginner players.
Best Control Rackets 2022 : Star Vie Astrum Eris , Drop Shot Kibo 3.0 , Dunlop Rapid Control 3.0 , Nox MP10 Gemelas Atomikas by Mapi S.Alayeto
Teardrop shape
This type of padel racket with a medium balance is a cross between the round and diamond formats, which allows you to find a good balance between power and control. Shovels of this shape have a medium sweet spot and are suitable for multi-purpose players.
Teardrop - shaped rackets on offer : Nox Tempo WPT Luxury Series ,Drop Shot Explorer 5.0 , Orven Kume , Kelme Felina and Sane Impronta Player Instinct .
Do you still have doubts about how to choose the right padel racket for you? Contact us or come and visit us in our stores to receive advice from padel experts.
May 20, 2022

Category:

News
Comments: 0